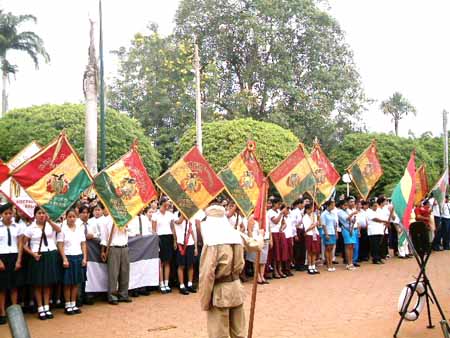 Anyone who thinks that optimism no longer has a place in our world could do a lot worse than visit Trinidad on March 23rd. For it is on this date that Bolivia 'celebrates' the Day of the Sea.
On March 23rd 1879, a small force of Bolivian troops died while defending the port of Calama from Chilean forces. Chile subsequently settled the area and Bolivia lost its coastline. Thus, every year, the people of Bolivia take to the streets to mark this sad anniversary. Yet the overwhelming mood of the day is always one of defiance rather than defeat, with poems being recited and songs being sung of that glorious day when the country will once more have a beach of its own – intriguingly, Bolivia still maintains its own Navy.
Methinks positive thinking is only to be commended in these cynical days, and yet it rather causes that age-old dictum to spring to mind…
Aye, right then!
For all that Bolivia may lack its own coastline however, it has not wanted for water this week in the shape of rain. And with these storms came the year's first
sur
(south wind). Coming from the antarctic circle, these cause temperatures to plummet – lows of 10 degrees Celsius have been recorded in recent years! That said, this week's wasn't too harsh and its effects had worn off within a day.
Much like snow in the British winter,
surs
are a great source of amusement, not least for us chocos. Indeed, nothing brings out the big girl in me like a cold front. "Hello, hoodies!" I squealed as I dived to the nether regions of our wardrobe. The downside of this is that, having hibernated all summer long, your 'big clothes' aren't exactly lacking for must and mould, only adding to one's social awkwardness. This, however, is quickly tempered by a fleeting glance at the multi-layered locals, festooned like Ernest Shackleton himself.
It is not, however, as if we are lacking for 'rainy day activities' and one of these is working through the Emmaus Bible Course. The Fundación has recently become an official Emmaus marking/distribution centre in Bolivia, so we have ready access to our examiners. Furthermore, we are working through the Spanish language version, which can only benefit our linguistic fluency.
On which note, as you'll remember from last week that I'm giving a sermon on Sunday, my first in Spanish. It's essentially taken double the time to write due to the language factor. In addition I'll have to deal with added pressure in the shape of our language teacher,
Farid
, who decided to come along when I told him I was delivering a full sermon in Spanish. I'll be looking closely at the Easter story, so our prayer is that he'll leave with a little bit more than an assessment of my past-tense usage.
Prayer
• For Easter week in Trinidad, particularly
with the elections looming
, that the locals would not be distracted from the core message.
• For Craig as he gives a gospel message on Sunday.
Praise
• For Amanda's deepening relationships with the nurses.
• For opportunities to share the gospel message, e.g., with Farid.
¡Que Dios les bendiga!

Craig & Amanda